The iMCP HTLRBL32L is a system-in-package (SiP), a revolutionary solution that transforms the integration and prototyping of long and short range IoT solutions.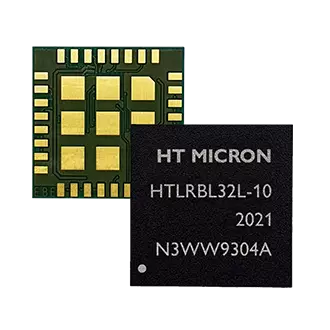 By seamlessly combining the advanced ST Microelectronics BlueNRG SoC (ARM Cortex M0+ with Bluetooth Low Energy radio) and the powerful Semtech SX1262 LoRa radio transceiver, the iMCP HTLRBL32L achieves unparalleled performance while optimizing power consumption. The open MCU and 256KB internal memory, offers configurability and flexibility to diverse project requirements, ensuring seamless integration and adaptability to meet the unique needs of every application.
Designed to excel in multi-region LoRaWAN deployments, the iMCP HTLRBL32L empowers you with capabilities for device commissioning, wireless firmware updates, and even mesh networking. Leveraging the cutting-edge Bluetooth Low Energy 5.2 technology, it opens up a world of possibilities for connectivity and control.
It comes in two versions, with or without security element embedded (ST SAFE), allowing the developer to choose to add a security element to its IoT solution.
Additionally, HT Micron, together with its proprietary company Hana Micron, provides a complete training package and reference documentation, allowing any enthusiast to develop solutions in a simplified and agile way. Check out the materials on the following websites:
https://hanaelectronics.com.br/capacitacao/
In order to facilitate the development and prototyping process, HT micron offers breakouts boards and also EVB (evaluation boards) that can be easily coupled to Arduino boards. Register your interest here: https://forms.office.com/r/3tS2JJerBE